goodbye, Bucky Pizzarelli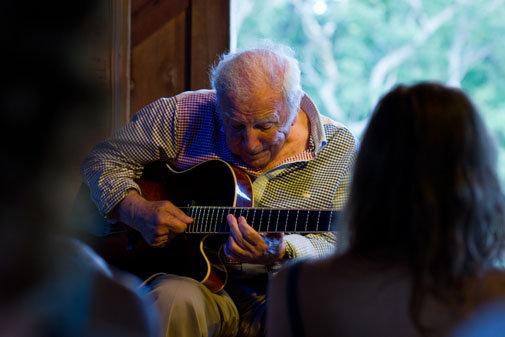 Bucky Pizzarelli, legendary jazz guitarist performing 

at the 

Concerts

 

in the Coop series
in Honesdale, PA in 2010

This week, we lost two American music legends to the Coronavirus. Ellis Marsalis and Bucky Pizzarelli. Mr. Pizzarelli holds a special place in our hearts as we have been blessed to have met him on several occasions. Bucky was a pioneer of the seven string guitar, second only to George Van Eps (inspiring the likes of Steve Vai). He was the original guitarist for the Tonight Show Band under the direction of Doc Severinsen and he has played with nearly every musician you can think of.
 
Bucky Pizzarelli
He played in the Concerts in the Coop series hosted by my husband and our good friend John Kascht ten years ago this summer. I prepared the pre-concert dinner (spaghetti and meatballs) and heard Bucky say under his breath "that's a good meatball". After the concert we all enjoyed my homemade Limoncello. These are such treasured memories.
R.I.P. Bucky Pizzarelli, we love you and will never forget you.

Bucky Pizzarelli with Ed Laub, Rembert & Lisa Meszler, and John & Dolores Kasct
All photos courtesy of A. Greg Raymond.
You can explore the music of the great Bucky Pizzarelli on Spotify. Here is one of our favorites: