3 generations of Mangiacarne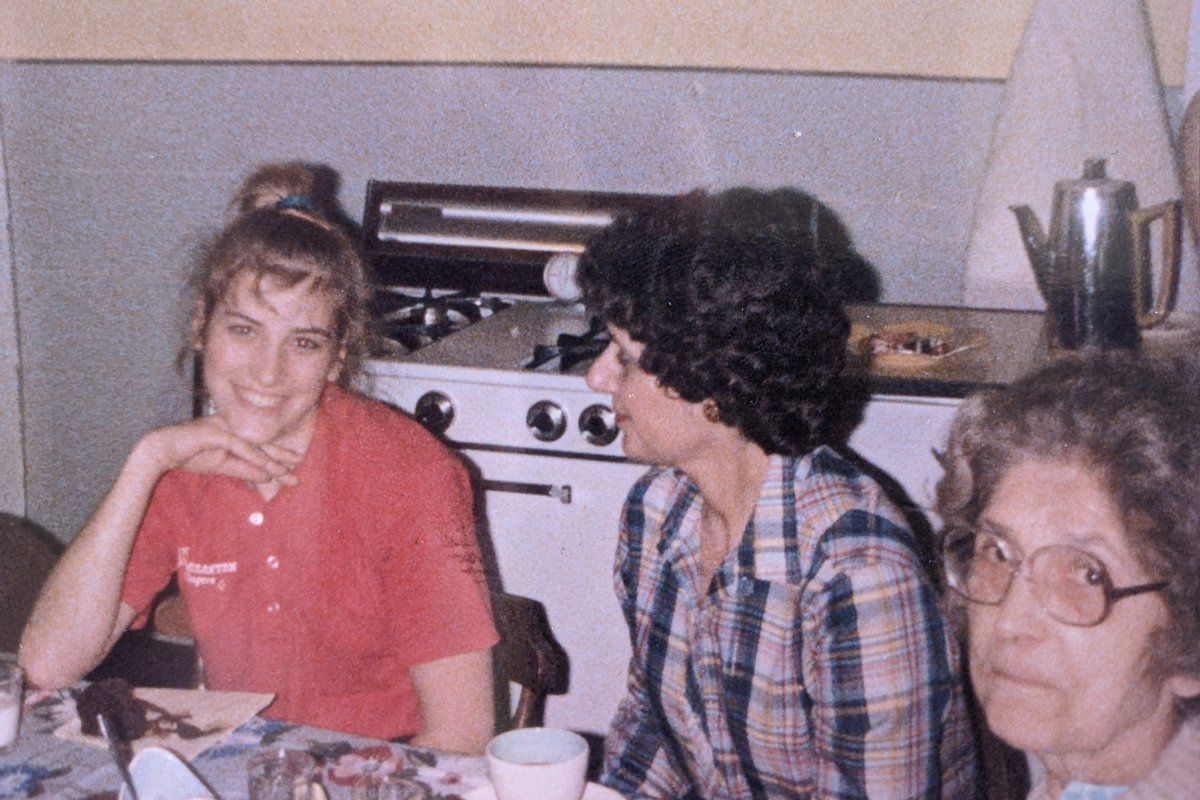 My meatball recipe has been passed down for at least three generations. I learned to make meatballs from my mom and she learned to make them from her mom. My mother's maiden name is Mangiacarne, which means "eater of meat" and couldn't be more apropos to my family's love of homemade meatballs. This is a photo from one of many family meatball making sessions - such cherished memories!
lisa's family meatball recipe:
ingredients

1 lb. of ground beef (some use a mix of beef, veal and pork, but we just use beef)

1 egg

1 slice of white bread soaked in hot water

minced garlic  (2 gloves or more depending on how much garlic flavor one likes)

bread crumbs

parsley

salt and pepper to taste
method
Place the beef in a bowl. Crack the egg and add into the bowl. Squeeze the water out of the bread and add to the bowl. (The bread should be the consistency of mush.) Add in garlic and chopped parsley (to taste). Sprinkle in some bread crumbs (Italian seasoned is nice for some extra flavor) - This is my own addition, my grandmother did not use them. Add salt and pepper to taste.

Wash your hands and remove your rings and get your hands into the bowl! Mix everything together until combined. It should feel a little fluffy (try not to over mix). This is the tricky part, depending on how it feels you may want to add another slice of wet bread or an egg or bread crumbs. The mixture needs to be the right consistency to form balls. If the mixture is too soft, they will fall apart when cooking; if the mixture is too firm, the meatballs will taste a little dry. You will know what feels right.

Form the mixture into balls. Brown them in oil in a dutch oven pan. Try to not to overcrowd the pan. It makes it difficult to turn them. I also find if I have too many in the pan at once, they don't brown as well. Once browned, remove from the pan. Use the drippings to start a batch of sauce. I add garlic, (sometimes a little red wine if I have an open bottle), crushed tomatoes, some spices, and a carrot or two.  Bring to a simmer, add the meatballs back into the sauce and cook for at least an hour on a slow, low simmer. That's it. You might want to make a double batch. They are great leftover the next day. My mom made us meatball sandwiches with lettuce for lunch with the leftovers. It was always one of my favorite school lunches!

Enjoy!